About Wilfred, my story & CV
The journey so far…
… has gathered 25 years of creative experience. Having worked for a couple of agencies and as a freelance art director. Servicing a wide range of clients. Online, Print, RTV, Out-Of-Home, you name it.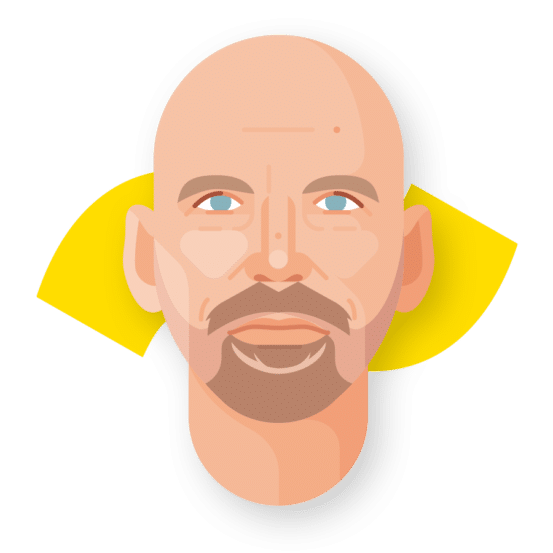 Graffiti sparked the passion and love for type. Above all, getting messages noticed.
Lucky to be admitted to the Junior Academy. Back then, the only academy with a dedicated 3 year Art Direction study.
The academy delivered 'juniors' ready to adapt agency m.o. Made me gain more experience.
Working at agencies without sales or project departments, made me comfortable dealing directly with clients. Handy when pitching.
Graduated
Art Direction daytime study. Alumni at Junior Academy Amsterdam.
Freelance Junior Art Director
Working freelance for several agencies in the Arnhem surroundings: Perspectief, RVH2, HPC Concept, Added Value.
Junior Art Director
Perspectief Reclame Adviesbureau
Art direction, graphic design, visualising, dtp.
Art Director
HPC Concept
Concept development, art direction, design.
Art Director
Dévelp b.v.
Concept development, art direction, creative team and studio management.
Freelance Creative / Art Director
As nrtwentyone.com
Concept development, art direction, design. Own clients and in-house for other agencies.
Creative Director
Trumpit
Creative direction, art direction, studio management.
Creative Manager / Art Director
Funk-e Internal Communication
Managing creative department, art direction
Senior Creative / Art Director
Boost Collectibles BV
Family & Lifestyle studio & creative department, art direction
Working as a creative / art director for the past 25 years has given me extensive experience in the creative communication field. From advertising campaigns to building (international) brands. As a freelancer and in full time capacity at agencies.
Wether using traditional or cutting edge media implementation, internal or external communication. I have serviced a wide range of clients in different branches. Above the line and below the line. Some Business-to-Business but predominantly Business-to-Consumer.
The bigger part of those 25 years at agencies and freelance without sales or project management departments. Creatives directly in the 'bull penn', with (marketing) management and/or the board on client side.
Concept development
Art direction
Brand design
Visual identity
Consumer journey
QSR & Grocery retail
Home & Lifestyle retail
Instore communication
Loyalty marketing
Pentel Sign pen
AD markers
Adobe CC ~ Id / Ai / Ps
Adobe XD
Figma
WordPress
Worked for (among others)
Gamma
PLUS Supermarkt
OHRA
Introdans
Het Gelders Orkest
Vitesse / Gelredome
Eijerkamp
Trendhopper
CILO
Emté / Sligro
Lidl
TCC Global
Bayer
Rabobank
Leo pharmaceuticals
Carl Zeiss Nederland
ANWR-Garant Nederland
Dakpark Rotterdam
Monuta
Let's Build Something Together
Don't be a stranger, send me a message to discuss your options. Talk soon!